In this highly technology-driven era, where computers are catering a significant role in our lives and technologies are evolving at every fourth hour, undoubtedly learning a computer language has become an urgent need for developers.
If you are a newbie in the field of web development, the toughest thing about learning programming languages is to decide where to begin your journey. Whether you are a developer looking for the best programming language to learn in 2021 or an entrepreneur searching for the best suited backend-programming language for the company website, you both have landed at the right battlefield.
We understand your love and passion for learning different programming languages. However, with over 500 + programming languages, for a few developers, it is always a matter of confusion which backend framework they should learn for web development.
Since learning a new programming language is always an investment of your time and efforts. So if you already know the various programming languages, then you probably want to learn a modern one with advanced features.
Easy to learn,
Widely used to develop an enterprise-level application,
Top-ranked as the reputed programming languages,
Having a comprehensive set of libraries, frameworks and strong community support,
Stable or rising in popularity.
Java vs PHP: Which is the Best Choice of Programming Language?
Which is better for web application Java or PHP?
You must be wondering, why we have straightaway declared above Java as a winning programming language over PHP. To support this statement, we have listed some of the significant benefits of choosing Java for enterprise-level web development over PHP.java app development company.Below Image is will tell you proper difference
as we can see comparison between two languages ,Every technology as its pros and cons but at the end its depend on us how we take this and which particular Technology we want to learn .
If you will check the statistics then it is quite clear that PHP is outshining among all its counterparts. According to the data of w3tech 79% of the websites are developed using PHP. For a better understanding of the market popularity among other entrepreneurs check the statistics of Similar Tech below.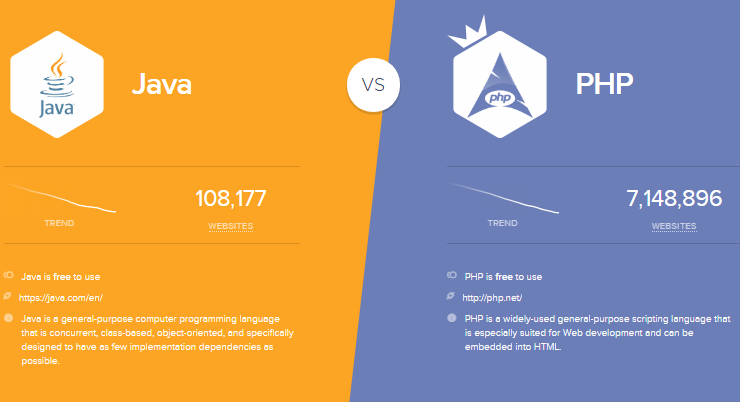 PHP VS Java: Meaning and Background
PHP is a server-side scripting language that is based on HTML. PHP was launched in 1995 and has survived in the industry incredibly since then. This platform is fast and best for creating dynamic web pages.
PHP provides a range of frameworks that are useful for building responsive websites. These frameworks are swift and highly productive. Moreover, its large community aids in smooth web development and maintenance. Overall, PHP is a cost-effective option for creating sites quickly.
Java, on the other hand, is a server-side as well as client-side language which was launched in 1996. You can create complete web apps with their help. Java offers flexibility for using on the desktop application along with server-side language.
It has a Virtual Machine that improves its speed and makes it perform efficiently on multiple operating systems. Moreover, it offers vast community support that is equipped with talented developers and the best web development practices.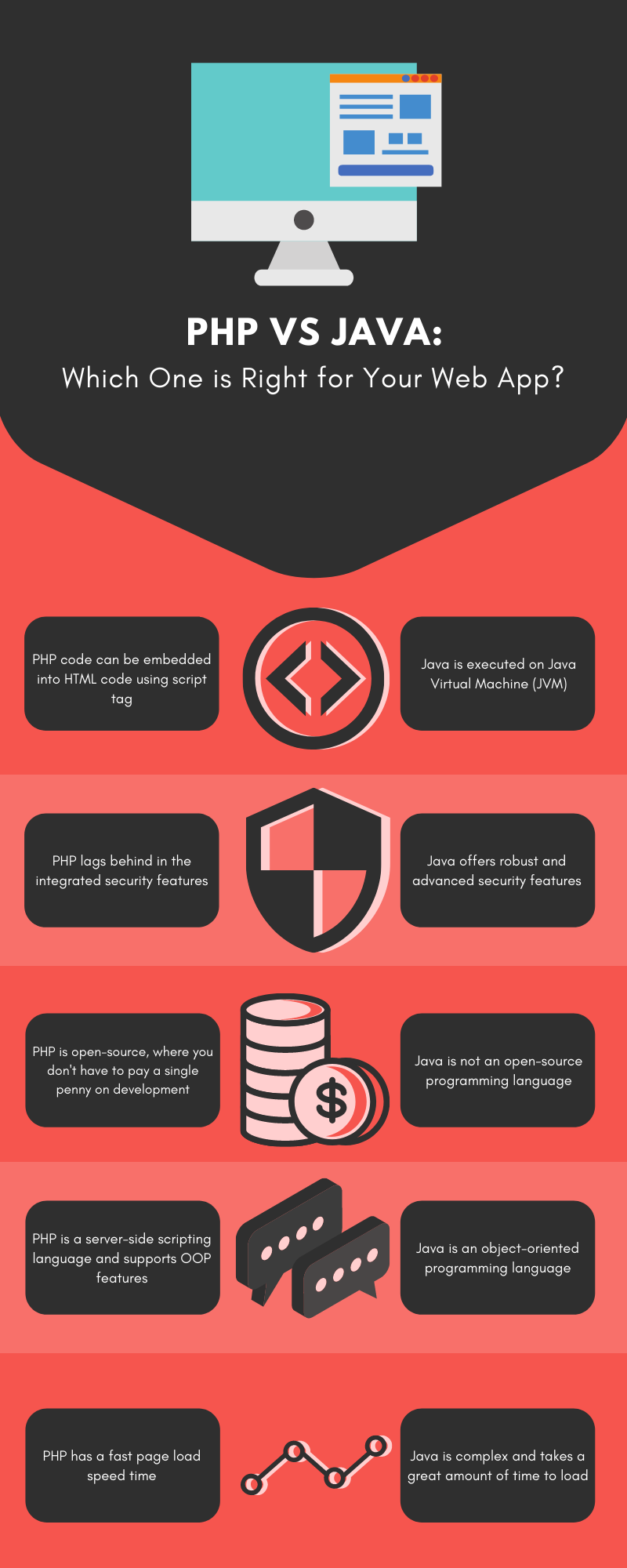 PHP VS Java: Cost of Development
PHP is an open-source programming language that allows the PHP web development company to develop any code without paying any fee. Programmers can use the PHP framework to develop enterprise applications and they can also customize the server-side scripting language according to the need for your enterprise development.
On the other hand, Java is not an open-source programming language. It uses open JDK which is used for the implementation of Java programming language. So, it costs more than the PHP project.